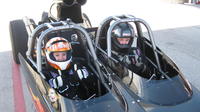 Ride Along in a Dragster at Texas Motorplex
Suit up and hop in the passenger seat of a two-seated dragster for a thrilling ride in a 800+ horse power machine. Reach speeds of 140 miles per hour in seconds as your professional, licensed driver races you down the strip at the Texas Motorplex one or two times during this 1-hour experience. Hotel pickup/drop-off and optional gratuities are not included.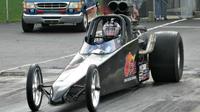 Dragster Drive Experience At Texas Motorplex
If you've ever wanted to drive a dragster, now's your chance to experience that unbelievable adrenaline rush, at approximately 130mph in a 10-second quarter mile. After safety instruction, track orientation and demo run, you will get suited up & belted into this high horse-powered dragster.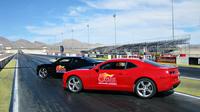 Side by Side Camaro Competition at Texas Motorplex
Are you competitive? Do you want to challenge your friends to a race? Well now you can! Drag race Camaros against your pals for bragging rights!